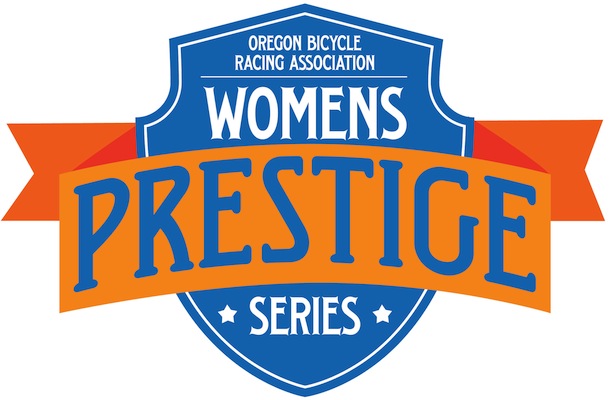 OBRA Women's Prestige Series
The OBRA Women's Prestige Race Series is a five month long series, run by the OBRA Oregon Cup committee. The series replaces and expands the previous Oregon Cup Women's competition and OBRA Cat 4-5 race series.

Series Details
The race series will consist of 10 races and three different competitions. Races will consist of road races, criteriums, time trials and one stage race. The competitions will include a Cat 1/2/3 series, a Cat 4 series and an overall team competition. The Oregon Cup committee will select the races and work directly with race promoters to ensure that the races provide the highest quality event possible.
Goals
Expand participation by providing a year long competition for teams and individuals
Raise awareness of women's racing as a fun, safe, active and healthy activity
Provide focus races on the calendar for women and women's teams to train and plan for
Encourage teamwork and team strategy
Provide resources for promoters increase the level of support and prizes for women's categories.
Individual Competition Points
Individual points will be awarded for each race in the series according to the points table. Only those riders who are annual OBRA members will be eligible for series awards and final series results. If a non-annual member becomes an annual OBRA member after earning series points, they will retain all previously earned individual points.
Individual points earned in a stage race will be awarded according to overall GC placing only. Points will be awarded at 1.5x the value for individual placings according to the points table.
In a team time trial, individual points will be calculated by dividing the points awarded for the team placing by the number of riders that started on the team. For example, if four riders start on a team and the team places 1st, each rider receives 25 points for the individual series standings.
Team Competition Points
In a road race, criterium, individual time trial or stage race (GC only), team points will be calculated by adding the points of the top three riders from each team according to the points table.
In a team time trial, team points will be awarded to one team per category (Senior Women and Category 4/5 Women) in the team competition, according to the points table. For example, if one OBRA team starts two separate teams in a team time trial, only the highest placed team will be awarded team points.
Only registered OBRA teams are eligible for the competition and only annual OBRA members may earn points for their team.
Points Table
| Place | Points |
| --- | --- |
| 1 | 100 |
| 2 | 80 |
| 3 | 70 |
| 4 | 60 |
| 5 | 55 |
| 6 | 50 |
| 7 | 45 |
| 8 | 40 |
| 9 | 35 |
| 10 | 30 |
| 11 | 25 |
Points Table
| Place | Points |
| --- | --- |
| 12 | 20 |
| 13 | 18 |
| 14 | 16 |
| 15 | 14 |
| 16 | 12 |
| 17 | 10 |
| 18 | 8 |
| 19 | 6 |
| 20 | 4 |
| 21-100 | 2 |